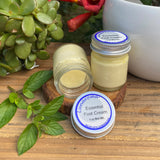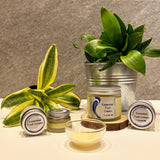 Lunaroma
Essential Foot Cream
Similar to our Essential Hand Cream but formulated with a cooling and refreshing scent of HoWood, Eucalyptus and Peppermint, our Essential Foot Cream is a dream come true for dry feet. Soften and moisturize your feet with extremely emollient organic, raw Shea Butter, nourishing organic Cocoa Butter and organic Jojoba.

Massaging this into tired, dry soles at the end of each day is a lovely way to pamper, unwind and maintain beautifully soft feet.


Super concentrated and formulated to use sparingly, you will not only love treating yourself to our Essential Foot Cream as part of your daily routine, but you will also love how little you will actually need when your feet are in need of moisturizing and renewing.

Organic Jojoba, organic Apricot Kernel Oil, organic Bulgarian Rosewater, organic Aloe Vera Gel, organic raw African Shea Butter, Organic Cocoa Butter, Vermont Beeswax, Organic Coconut Oil, organic Vegetable Glycerin, Sodium Borate, Colloidal Silver, Vitamin E Mixed Tocopherols, 100% pure Essential Oils.
Apply anytime, especially after bathing when the skin is still moist, for soft and silky feet. Remember to apply to cuticles and massage into toes for extra protection and softness. Pro Tip: Try using for foot massage and at nighttime for a moisturizing treatment with cotton socks. For best results re-apply often.