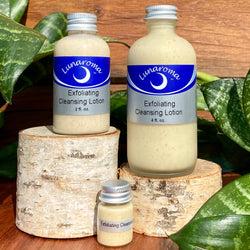 Lunaroma
Exfoliating Cleansing Lotion
Newly reformulated with a thinner lotion for ease of use and removal, our new botanically divine base is easier to use than ever before. We have changed the packaging to dispense from a bottle instead of risking the possibility of spillage using an open mouth jar. The light exfoliation in our Exfoliating Cleansing Lotion is suitable for every day use and reveals a sparkling new layer of skin without being abrasive. This nutrient dense cleanser is great for use daily on normal to dry skin.

Organic Aloe Vera Distillate, organic Aloe Vera Gel, organic Castile Gel, organic Fractionated Coconut Oil, organic Coconut Oil, organic raw Shea Butter, organic Rosewater, Rosemary Extract, organic Chamomile Hydrosol, Vermont Beeswax, Pumice, Walnut Shell, Colloidal Silver, organic Pomegranate CO2, organic Sea Buckthorn CO2, non-GMO Vitamin E D-Alpha, non-GMO Mixed Tocopherols, pure organic and wildcrafted Essential Oils.
Apply to wet face in a circular motion, gently wash and rinse well. Follow with a hydrosol or toner and your favorite Lunaroma moisturizer or elixir.