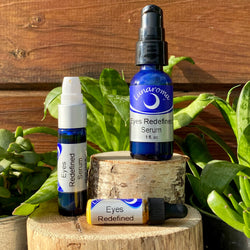 Lunaroma
Eyes Redefined Serum
Our Eyes Redefined is an intensive, antioxidant-rich eye serum formulated to gently moisturize, plump and support the collagen of the delicate area around the eyes.

Eyes Redefined Serum includes firming and restorative oils like organic Neroli, organic Myrrh, and organic Frankincense all which have been favorites in beauty and face care rituals for thousands of years. With the addition of organic Hyaluronic Acid, organic Seabuckthorn CO2, and organic Pomegranate CO2, Eyes Redefined is formulated to help bring a renewed glow and improved elasticity to the skin around the eyes, moisturizing and increasing suppleness. 

Although it was formulated specifically for the eyes, many of our clients love this as a complete facial moisturizer. This decadent formula is super concentrated, so a little goes a long way.

Organic Jojoba, Aloe Vera Juice, organic raw Shea Butter, organic Rosemary Hydrosol, organic Bulgarian Rosewater, organic Calendula in organic Olive Oil, organic Rosehip Seed Oil, organic Cucumber Hydrosol, organic pure MSM, organic ecocert Hyaluronic Acid (1.5%), Helio-Carrot Root CO2, Colloidal Silver, Colloidal Copper, Vermont Beeswax, organic Seabuckthorn CO2, organic Pomegranate CO2, Vitamin E D-alpha, Vitamin E Mixed Tocopherols, DMAE, pure organic and/or wildcrafted Essential Oils.
After proper cleansing, mist the face with a hydrosol or toner and apply daily, morning and night to damp skin around the eyes. If tightening is apparent, apply more hydrosol after application. May be followed with a moisturizer if desired.