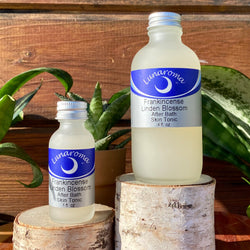 Lunaroma
Frankincense Linden Blossom After Bath Splash Skin Tonic
Our Frankincense Linden Blossom After Bath Splash Skin Tonic is a balanced, sweet, expansive, clean and floral and resinous aroma blended from two powerful beauties in the aromatherapy world. Frankincense known worldwide for its benefits in tightening the skin, and Linden Blossom for its cooling, calming effect on the nerves. Together they make a wonderful aromatic way to start a new, stress-free day. Or after your night time bath to soothe your senses before bed.

Enjoy our After Bath Splash Skin Tonic to revitalize your senses, tighten your pores, soften your skin, and seal in moisture, keeping your skin feeling just showered all day long. Formulated with organic Aloe Vera, ecocert Hyaluronic Acid, organic Witch Hazel distillate and more, After Bath Splash Skin Tonics leave your skin feeling soft, smooth, and aromatic. 

After Bath Splash Skin Tonics are also a wonderfully natural alternative to after shave. Leaving the skin feeling smooth, soft and protected. 

Aloe Vera Distillate, organic Aloe Vera Gel, organic Cane Alcohol, organic Witch Hazel Distillate, organic Grape Alcohol, organic Sugar Cane Alcohol, organic Fractionated Coconut Oil, Ecocert Hyaluronic Acid, organic Vegetable Glycerin, organic Tincture of Benzoin, Colloidal Silver, Acacia Gum and Pure Essential Oils.
Splash on after the bath or shower to refresh, tone and scent the skin, follow with our Ultra Luxe Body Lotion, Cream or Body Butter if desired.