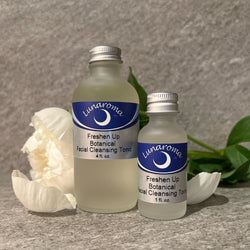 Lunaroma
Freshen Up Botanical Facial Tonic
Our Freshen Up Botanical Facial Tonic is the most pure, gentle and refreshing cleansing facial wipe solution on the planet. Made with organic Helichrysum, Lavander, Rose and Witch Hazel Hydrosols alongside Colloidal Silver and just a touch of organic Alcohol, it is formulated to effectively remove dirt and oil without stripping your skin. Both toning and cleansing, our Freshen Up Botanical Cleansing Tonic makes cleansing on the go easy while being beautifully scented... botanical bliss for your face.

For ease, we suggest you couple our Freshen Up Cleansing Tonic with our Facial Cleansing Rounds or use with cotton balls, flannel re-usable cleansing pads, or with tissues. Can also be used under arms and elsewhere on the body for freshening up.

 

Colloidal Silver, organic Helichrysum Hydrosol, organic Witch Hazel Distillate, organic Lavender Hydrosol, organic Sugar Alcohol.

Use our refreshing botanical wipes anywhere & anytime to cleanse and tone. Apply as often as necessary. Follow with facial moisturizer if desired.