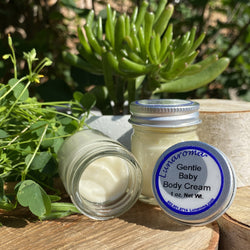 Lunaroma
Gentle Baby Body Cream
The essential oil scents of organic Chamomile, Rose, and Lavender make our Gentle Baby Body Cream perfect for a sweet, soothing cream for baby's skin. Made with only organic ingredients, this rich, creamy cream is perfect for massage and generally sealing in moisture. Perfect for use in the winter. 

Organic Jojoba, organic Coconut Oil, organic Rosewater, organic Lavender Hydrosol, organic raw Shea Butter, Vermont Beeswax, organic Glycerin, pure organic Essential Oils of Rose Otto, Lavender, and Roman Chamomile.

Apply a small amount of Gentle Baby Body Cream to baby's skin and gently massage in. Also suggested to seal in moisture after a bath to avoid dryness.