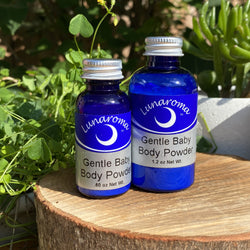 Lunaroma
Gentle Baby Body Powder
Our all-over Gentle Baby Body Powder is wonderful for freshening up baby and wicking away moisture. With pleasant scents that are calming and fresh.

Organic Arrow Root Powder, organic Marshmallow Root, White Clay, 100% Pure Essential Oils of organic Lavender and Roman Chamomile

Apply a small amount of Gentle Baby Body Powder to baby's bottom after diaper changing and/or after bathing to wick away extra moisture from baby's skin.