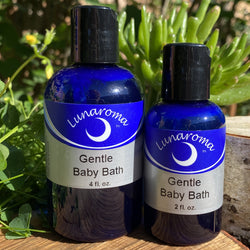 Lunaroma
Gentle Baby Organic Bath and Body Wash
Babies love bath time with Lunaroma. Made with all organic ingredients and the soft, soothing floral scents of organic Rose Otto, Lavender and hamomile, Gentle Baby Bath is as pure and gentle as it gets. With pleasant scents that are calming and fresh.

Baby Soothing Bath is all organic. Saponified Organic Oils of Coconut, Olive and Jojoba, organic Rosewater, organic Aloe Vera, organic Jojoba, Vegetable Gum, Vegetable Glycerin, Rosemary Extract, and pure organic Essential Oils of Rose Otto, Lavender and Chamomile. This sweet soap is nothing but gentle and calming.

Gentle Baby Bath can be used in many ways. Add it to an already poured bath, or squeeze it onto a wash cloth for a gentle cleansing.

Also try adding 1 Tablespoon of Gentle Baby Bath to 8oz of water in a spray bottle and use on baby's bottom while changing diaper, or as recommended in diaper wash cloth water warmers.