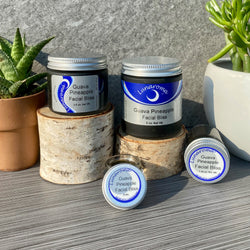 Lunaroma
Guava Pineapple Honey Facial Bliss
It you love our Bamboo Loofah Honey Facial Bliss, our super anti-oxidant rich Guava Pineapple Facial Bliss is perfect when you are craving a sweet change to your cleanser. A dreamy gentle and exfoliating scrub packed with tropical goodness. Like nectar for your face, this formula boasts enzymatic Pineapple, dewy Guava and power-packed organic Spirulina. Our Guava Pineapple Facial Bliss also includes the potent properties of raw Vermont Honey, organic Aloe Vera gel, organic Sea Buckthorn CO2 and the gentle exfoliating power of Bamboo and Loofah. The light scrub, tropical aroma, and resulting radiance will quickly turn this into your favorite new facial cleansing product.

 

Vermont Honey, Loofah, Bamboo Powder, organic Jojoba, organic Aloe Vera Gel, Guava Powder, Pineapple Powder, Aloe Vera Juice, Spirulina, organic Bulgarian Rosewater, Malic Acid, Citric Acid, organic Witch Hazel Distillate, Colloidal Silver, organic Willow Bark Tincture, organic Vegetable Glycerin, organic Echinacea Tincture, Carrot Root Oil, organic Seabuckthorn CO2, organic Guar Gum, pure organic and wildcrafted Essential Oils.
Apply to wet skin, gently massaging with your fingertips in a circular motion. Allow the product to remain on the skin for a few minutes before rinsing well. Follow with a hydrosol and one of our facial creams or elixirs.