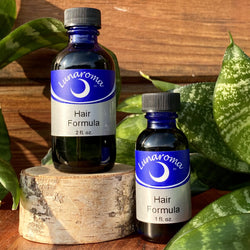 Our 100% natural blend of pure essential oils is blended into a base of organic Jojoba to create our fabulous Hair Formula. This blend increases circulation and stimulates the hair follicle. Cultivate a healthy scalp environment with this wonderful smelling blend of Rosemary, Cedarwood, Lavender and Thyme.

 

Organic Jojoba, organic Inophyllum Calophyllum, pure organic essential oils.
Generously apply and massage well into the scalp at night, leave on all night. In the morning, after shampooing, apply a small amount to the scalp and massage well. Note: As with many natural products, this product must be used regularly for months before results are noticeable.