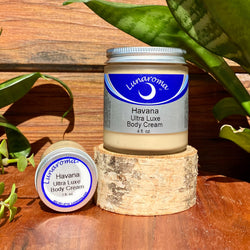 Lunaroma
Havana Ultra Luxe Body Cream
Our Havana scent captures the allure of a in a passionate tropical city. Sensual, earthy and bold with notes of night blooming Jasmine and Tobacco, you will feel sultry and alive when applying this Ultra Luxe Cream. Leyla blended this scent inspired by her connection to her parents' native Cuba. Havana is the hometown of her father, Sandalio. From all accounts Havana's inspiration comes from the roots of  a fiery culture that awakens the senses.

Using the highest quality botanicals in our rich, hand-blended base, the Ultra Luxe line of creams feel like a dessert for the skin. Notice the dewy glow on your skin as the the Ultra Luxe Body Cream sinks in, leaving the skin unforgettably soft. Silky smooth to the touch and divine to smell, you will love the way you feel in your skin when you indulge in Ultra Luxe Body Creams.

Organic Jojoba, organic Coconut Oil, organic Lavender Hydrosol, organic raw Shea Butter, VT Beeswax, organic Vegetable Glycerin, Aspen Bark Extract, Pure Essential Oils.
Apply our concentrated Ultra Luxe Body Cream after bath or shower while skin is still wet for a long lasting rich & moisturizing feel.