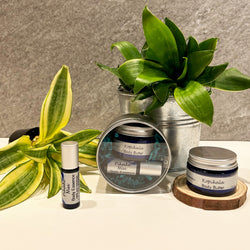 Our Hawaii Vacation Gift Set delivers just a little bit of tropical magic when you most need it. Featuring our fabulous combination of 1oz of Kopikala Coconut Body Butter and 5mls of Pikake Niu Body Essence, this little set is perfect to get anyone in the mood for a sensual, tropical, floral Coconut, aromatic escape.

About our Hawai'i  Collection:

Coconut is the inspiration for our Hawai'i Collection of Body Essences. We celebrate this enigmatic tropical aroma for its delicious, sweet scent and because until now Coconut scents in body care and perfuming have only been synthetically derived.

The Hawaiian names in this line come from our love of Hawai'i and because of Lunaroma's history in Maui--where we used to have a second shop. We believe Hawaiian words could only accurately represent the beauty and uniqueness of these scents. May this collection help you aromatically travel to the tropical places you love.