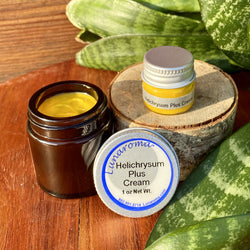 Lunaroma
Helichrysum Plus Cream
A highly concentrated cream that features pure organic Helichrysum italicum as both a hydrosol and an essential oil in a moisturizing botanical blend of active ingredients such as organic Sea Buckthorn, organic Rosehip Seed, and organic Comfrey infusion. Perfect for supporting skin elasticity and keeping scars moisturized as they heal.

Organic Jojoba, organic Helichrysum Hydrosol, Herbal Infusion of organic St. John's Wort, organic Calendula, organic Lavender, organic Plantain and Organic Comfrey in organic Olive Oil, organic Frankincense Hydrosol, organic Aloe Vera Juice, organic Rosehip Seed Oil, Vermont Beeswax, organic Calophyllum inophyllum, organic Seabuckthorn Oil, wildcrafted Neem Oil, Carrot Oil, Colloidal Silver, Colloidal Silica, organic Vegetable Glycerin, MSM, DMAE, organic Frankincense Tincture, pure organic and wildcrafted Essential Oils including Helichrysum italicum.
Rub onto healing scars and scabs. Use often enough to maintain the moisture of the healing wound and allow for the skin to be moisturized while it is healing.