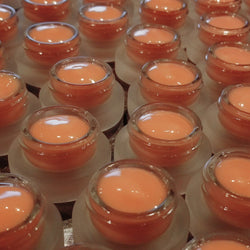 Lunaroma
Honey Rose Lip Cream
Our super lush Honey Rose Lip Cream provides your lips with softening and nourishing emollients including raw organic Shea Butter, organic Calendula Infusion and organic Jojoba. This creamy, smooth base is balanced by Vermont Honey, organic Rosewater and organic Glycerin and Ecocert Hyaluronic Acid which hydrate and keep moisture on your lips while adding a plumping, sweet, fragrant touch. Use our Honey Rose Lip Cream for the softest lips with a natural light gloss. Your lips are the center of your face, treat them with the sweetest love.

 

Organic Jojoba, Vermont Beeswax, organic Rosewater, organic Rose Petal Infusion in organic Fractionated Coconut Oil, organic Calendula in organic Extra Virgin Olive Oil, raw organic Shea Butter, Mixed Tocopherol Vitamin E (non GMO), D-Alpha Vitamin E (non GMO), organic Vegetable Glycerin, Vermont Honey, Alkanet Extract, pure organic and wildcrafted essential oils including organic Rose Otto.
Apply to lips as often as desired for moisturizing, a light gloss, and the touch of Rose.