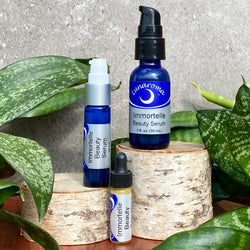 Lunaroma
Immortelle Facial Serum
Our Immortelle Facial Serum is formulated with some of the world's most powerful antioxidants and essential oils. The result is a highly effective and deeply beautifying facial moisturizer. Showcasing organic Immortelle essential oil (also known as Helichrysum or Everlasting), which is renowned as a must-have for maintaining a gorgeous, youthful glow. We arrived at the perfect consistency by suspending the essential oils in a moisturizing base of organic Jojoba and Aloe Vera Gel blended with Ecocert Hyaluronic Acid and organic Rosewater.

Smooth, rich, but not too heavy, this serum can also be used in combination with a heavier based moisturizer such as our True Love Rose Otto Face Cream, for those with extra dry skin or during the cold winter months.

Organic Aloe Vera Gel, organic Helichrysum Hydrosol, organic Rosewater, organic Jojoba, organic Rosehip Seed Oil, Carrot Oil, Colloidal Silver, non-GMO Vitamin E D-Alpha, Ecocert Hyaluronic Acid, organic Guar Gum, Aspen Bark Extract, DMAE, Alpha Lipoic Acid, organic Echinacea Tincture, Citric Acid and pure organic and wildcrafted Essential Oils.
Apply to damp face and neck after proper cleansing. Ideally apply onto the skin misted with an organic Hydrosol. Follow with richer moisturizer if desired.