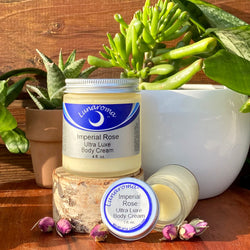 Lunaroma
Imperial Rose Ultra Luxe Body Cream
Imperial Rose embodies its namesake flower, the royal Rose, and includes a blend of our most favorite Rose oils. This cream will become an immediate favorite for any Rose lover.

Using the highest quality botanicals in our rich, hand-blended base, the Ultra Luxe line of creams feel like a dessert for the skin. Notice the dewy glow on your skin as the the Ultra Luxe Body Cream sinks in, leaving the skin unforgettably soft. Silky smooth to the touch and divine to smell, you'll love the way you feel in your skin when you indulge in Ultra Luxe Body Creams.

Organic Jojoba, organic Coconut Oil, organic Lavender Hydrosol, organic raw Shea Butter, VT Beeswax, organic Vegetable Glycerin, Aspen Bark Extract, Pure Essential Oils.
Apply our concentrated Ultra Luxe Body Cream after bath or shower while skin is still wet for a long lasting rich & moisturizing feel.