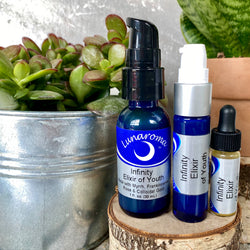 Lunaroma
Infinity Elixir of Youth
An ancient beauty elixir existing in modern times. Our beautifully smelling, antioxidant rich blend of botanicals feeds the skin and seals in moisture. We infuse organic Jojoba with renowned skin care favorites like organic Sea Buckthorn, organic Pomegranate, organic Frankincense, organic Myrrh, organic Rose Otto and Colloidal Gold. Infinity Elixir of Youth will provide you with a medium feel of moisture without being too heavy, and is perfect under makeup or for going au natural. A go-to moisturizer for all skin types and a client favorite.

Note: Infinity is a thicker elixir and will be difficult to pump if it gets too cold. Please warm up under warm water if you happen to leave this in a cold place and have difficulty pumping.

Organic Jojoba, organic Bulgarian Rosewater, organic Myrrh Hydrosol, organic Rose Infusion in organic Fractionated Coconut Oil, Vermont Beeswax, organic Calendula Infusion in organic Extra Virgin Olive Oil, organic raw African Shea Butter, organic Vegetable Glycerin, Colloidal Gold, organic Sea Buckthorn CO2, Non-GMO Vitamin E D-Alpha, Colloidal Silver, organic Pomegranate CO2, organic Extracts of Echinacea, Oatstraw and Propolis, our proprietary blend of wildcrafted and organic Essential Oils featuring Frankincense, Myrrh and Rose Otto.