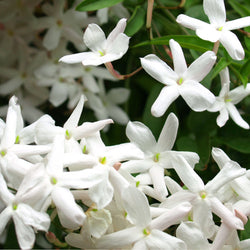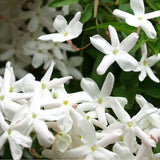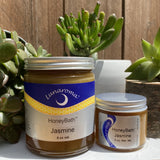 Lunaroma
Jasmine Honey Bath
Enjoy the skin nourishing benefits of pure Vermont Honey and natural botanicals in the luxury of your bathtub. Our Honey Bath softens and tones skin while being a wonderful agent for circulation. Honey and Maple Syrup both contain naturally occurring Glycolic Acid Acid, an Alpha Hydroxy Acid which excels at removing dry dead skin without having to scrub. Luxury, relaxation, aromatherapy and soft skin, now that is a bath!

Vermont Honey, organic Jojoba, organic Vermont Maple Syrup, organic Vegetable Glycerin, organic Fractionated Coconut Oil, Pure Essential Oils and/or Absolutes.
Place closed jar in the bathtub while running your hot bath, this will soften the honey. Step into bath, open the jar and glaze your entire body with Honey Bath before gliding into the water. Soak for at least 20 minutes. Honey is water soluble, is easy to clean and does not leave a mess in the bathtub.