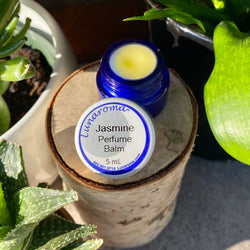 Lunaroma
Jasmine Precious Perfume Balm Bouquet
Jasmine is a perfuming delicacy. The euphoric aroma of Jasmine Absolute makes an immediate and unforgettable impact of uplifting pleasure on your senses. Our Jasmine Perfume Balm is made with a combination of our sweet, day blooming Jasmine Grandiflorum and our more musky, darker and deeper floral Jasmine Sambac, forming a transformative and euphoric blend that is absolutely exquisite. 

Perfume Balms capture the essence of ancient times when botanical solid perfumes were the standard in luxury, ritual and offerings. 

Perfume Balms can be used alone or blended with Perfume Oils and Essences Oils or Colognes as well as with other Perfume Balms to add dimension and diversity to your scent expression. Make sure when you are blending, to not cross contaminate the applicators or the products themselves with different scents. To keep all scents purely themselves, blend into your palm. To do this, scoop, pump or roll a small amount of your favorite scent onto your palm, then do the same but onto a different part of the palm, then blend them together to create a unique scent you love in your hand. 

Lunaroma Perfume Balms are formulated for lasting scent, containing the highest concentration of essential oils and absolutes of all our perfume. Perfectly preserved in a pure organic jojoba and Vermont beeswax base. Transform yourself with the ancient art of applying and wearing organic perfume in this way.

Pure Vermont beeswax, organic Jojoba, pure essential oils and/or absolutes.

Scoop a tiny amount of Perfume Balm using the top of your fingernail (this way no precious balm gets caught under your nail). Swipe it onto your palm and use your finger tip to melt it into your palm. Now, dip into it and apply wherever you desire long lasting scent include the nape of neck, wrists, behind ears, etc.

Take the rest of what is left and apply to the ends of your hair and any natural fiber clothing you have on such as a scarf or sweater. Avoid raw materials such as silk or suede.