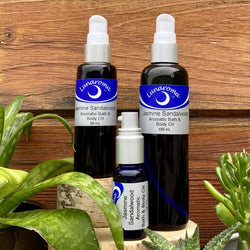 Lunaroma
Jasmine Sandalwood Aromatic Body Oil
Jasmine and Sandalwood Aromatic Body Oil, quite possibly one of the most intoxicating, beautifying and transformative combinations. Together Jasmine and Sandalwood bring a sensuous, sweet and floral sense of uplifting blended with the soft, alluring, and grounding sense of earthy.

Organic Jojoba, organic Fractionated Coconut Oil, and Pure Essential Oils

Use after bath or shower when skin is still wet to seal in moisture and create a base layer of scent.

May also be used as a light perfume oil or hair oil. To use as a light bath oil, add 3-5 pumps to an already pour hot bath, or apply to the skin before getting into the tub.