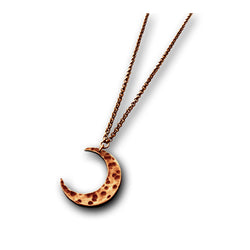 Lunaroma
Jen Kahn for Lunaroma Moon Necklace Brass Patina
Our commemorative 20 Year Anniversary Brass Crescent Moon Lunaroma Logo necklace was designed by the most talented and beautiful jewelry artist, Jen Kahn of Burlington, Vermont.

Working together to bring you a classic Crescent Moon design, our Lunaroma hammered Brass Patina moon honors the many cycles of our lives, the constant movement effecting our botanical allies, our growth and consciousness, and reminds us of the interconnectedness of all things.

Our Brass Patina Crescent Moon necklace comes with a Brass Patina chain in your choice of adjustable lengths.

Check out Jen Kahn's beautiful work here.