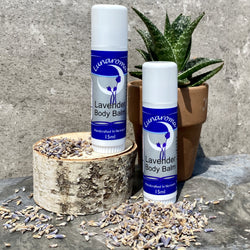 Lunaroma
Lavender Body Balm
Our Lavender Body Balm is formulated to condition, and soften dry, cracked skin. Use it like you would a lip balm but anywhere on your body, like on chapped hands, knuckles, elbows, heels, lips, cheeks...wherever you want your skin to be softer. Keep one in your car, one at work and definitely one at home. 

Packaged in an oversized lip balm container, it is easy to apply to any area and is a favorite of parents, skiers and snowboarders alike to protect the face and lips from windburn. 

Organic Cocoa Butter, organic African Shea Butter, Vermont Beeswax, organic Herbal Infusions of organic herbs of Saint John's Wort, Calendula, Comfrey, Chamomile, Lavender and Plantain infusions in organic Olive Oil, organic Avocado Oil, organic Jojoba, organic Coconut Oil, organic Sweet Almond Oil, Vitamin E and pure Essentials oil of wildcrafted French Lavender.
Apply generously to dry, chapped skin. Also great for preventing windburn during winter outdoor activities.