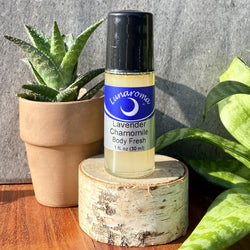 Lunaroma
Lavender Chamomile Body Fresh
Lavender Chamomile combines the clean, sweet, fresh scents of two sweet flowers who creating calm, introspection and deep relaxation. Also a very popular blend for those with sensitive skin. 

Our all-over Body Fresh is wonderful for freshening up after exercise, yoga, a hot day or whenever you want to feel renewed. Body Fresh is lighter than a Perfume Oil yet stronger than a Body Cologne. It is great for rolling on anywhere you want to freshen up. 

Featuring simple and beautiful combinations which wear easily alone or as a quick fix layer on top of your favorite scent themes, Body Fresh will give you that extra layer when you need a touch up of fresh.

Made with organic Aloe Vera, organic Witch Hazel, Colloidal Silver with powerful extracts of Benzoin and organic Black Willow, Body Fresh will become your reliable standby when you want to feel crisp. 

Organic Aloe Vera Juice, organic Aloe Vera Gel, organic Witch Hazel Distillate, organic Vegetable Glycerin, Tincture of Benzoin, organic Jojoba, Colloidal Silver, organic Black Willow Extract, organic Guar Gum, pure Essential Oils.
Use on under arms or anywhere on the body to freshen up. Can be used like a deodorant at the day's beginning, after a yoga class, on a hot and humid day, or before a presentation. Anytime you need a little more Body Fresh.