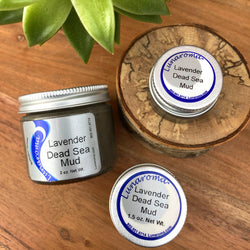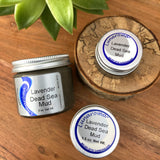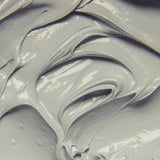 Lunaroma
Lavender Dead Sea Mud
Dead Sea mud is a mineral-rich mud used for centuries for its cosmetic and cleansing benefits. The salt content in the Dead Sea is more than 6 times that of the salt content found in the ocean. Other than the high salt content, Dead Sea Mud also contains many trace minerals beneficial for beautifying and balancing the skin.

We combine this amazing mud with the calm aroma of organic Lavender essential oil and emollient and balancing organic Jojoba for a delightfully rich, soft, toning feel. Enjoy our Lavender Dead Sea Mud as a mask or cleanser for the face or indulge in a full body mask then soak in a bath for additional deep cleansing, exfoliation and re-mineralizing of all your skin.

Pure Dead Sea Mud, organic Lavender Hydrosol, organic Jojoba, pure organic and wildcrafted essential oil of Lavender angustifolia.
Apply onto face with clean fingers or a facial brush, enough to coat the skin well. Allow to penetrate for at least 3-5 minutes. Rinse with warm water, follow with toner and moisturizer. For an extra deep clean, wear mask until dry, then scrub off for added exfoliation. For a spa treatment at home, wear the mask on your body in direct sunlight while sun bathing. We recommend throughly rinsing the mask off by showering or soaking in a bath, then following with a hydrosol and a substantial moisturizer such as Blue Dream Replenishing Facial Lotion, Golden Renewal Replenishing Facial Cream or Nourishing Facial Elixir for the face, or one of our blissful Body Butters, Ultra Luxe Lotions or Creams for the body.