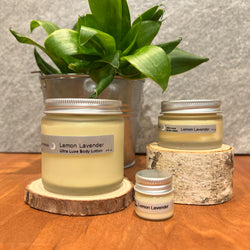 Lunaroma
Lemon Lavender Ultra Luxe Body Lotion
New Look and Easier to Use! After many requests, our Ultra Luxe Body Lotion is now packaged in Frosted Glass 4oz and 1oz jars, making it easy to use every last drop. 

The citrus, clearing, calm, floral-herbaceous scent of Lemon Lavender appeals to almost everyone. Wonderful for everyday use, our Lemon Lavender Ultra Luxe Body Lotion is infused with an uplifting blend of our bright, organic Lemon and a combination of our favorite classic Lavenders.

With notes from our organic Rose and Chamomile hydrosols, wildcrafted French lavender oils and organic Lemon, the scent of this lotion is bright, easy to wear and perfect for gifting to almost anyone.

Our daily routines are a perfect opportunity to practice self care. Treat yourself and your skin to the very best with a daily moisturizer made of only pure, clean botanical ingredients with our line of Ultra Luxe Body Lotions. Deliciously creamy, luxurious and heavenly scented; you will love applying this lotion and be amazed at how incredible your skin smells and feels.

Formulated with deeply softening and moisturizing ingredients such as organic raw Shea Butter, organic Aloe Vera and Ecocert Hyaluronic Acid to hold in moisture, this our line of Ultra Luxe Lotions are a true skin delight. 

Each scent is artfully crafted using a blend of precious essential oils and absolutes. Use these lotions alone or along with other body care products and perfumes as part of a scent layering experience.


Aloe Vera Distillate, organic Aloe Vera Gel, organic Fractionated Coconut Oil, organic Virgin Coconut Oil, organic raw Shea Butter, organic Rosewater, Vermont Beeswax, Colloidal Silver, organic White Willow Extract, Ecocert Hyaluronic Acid, non-GMO Vitamin E D-Alpha, non-GMO mixed Tocopherols, pure organic and wildcrafted Essential Oils and Absolutes.
Apply to hands and body as desired. For extra moisture apply to damp skin after the shower or bath to seal in moisture.