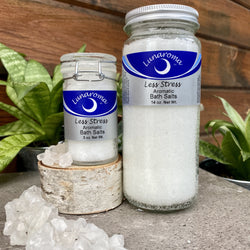 Lunaroma
Less Stress Aromatic Bath Salt
Less Stress Aromatic Bath Salt creates a clearing, calming, and centering bath. Less Stress is clear and grounded with balanced notes of Rosemary, Lavender, Bergamot and Vetivert. Perfect for winding down after a busy day. 

Dead Sea Salt, Epsom Salt, organic Fractionated Coconut Oil, and pure Essential Oils.
Add 1/4 cup or more to an already poured bath. Soak and enjoy.