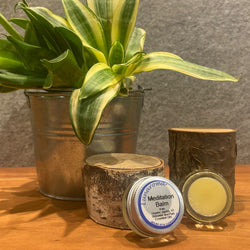 Our Meditation Balm is blended to ease the mind and focus awareness. Blended with oils traditionally used for meditation such as Frankincense, Cedarwood and Myrrh, the aromatics are grounding as well as spiritually expansive.

Rub on your temples, your third eye, and a little under your nose and let the oils transform your yoga or meditation practice.

Organic Jojoba, Vermont Beeswax, Pure Essential Oils
Apply to the temples, the third eye, under the nose and anywhere else you would like to bring aromatic awareness, grounded energy and focus to your yoga or meditation practice.