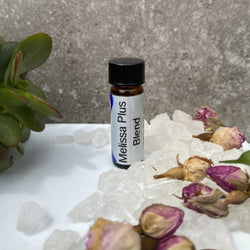 Lunaroma
Melissa Plus Blend
Melissa, also known as Lemon Balm, is the precious and revered essential oil featured in this formula. Alongside other oils like Eucalyptus and Tea Tree, this highly concentrated blend comes in a base of organic Jojoba and organic Saint John's Wort. Use for clearing and soothing.

 

Organic Jojoba, organic Saint John's Wort herbal infusion in organic Olive Oil, organic and wildcrafted essential oils
Apply often for best results.