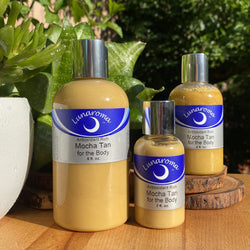 Lunaroma
Mocha Tan Sunning Lotion for the Body
Mocha Tan For The Body is an antioxidant rich sunning lotion which is perfect for accelerating your tanning experience. Moisturizing, wonderfully scented and an all-time favorite Lunaroma product created specifically to nourish your skin while you bask in the Sun's rich Vitamin D experience.

Clinical studies show the topical application of Coffee and Coffee extract prove to be strong antioxidants. Mocha Tan Sunning Lotion provides a touch of natural botanical protection while allowing the skin to moderately tan in less time, therefore decreasing over all sun exposure. Formulated with ingredients like organic Coffee Infusion and Coffee essential oil, you will enjoy how beautiful your naturally tanned body looks after a day of Mocha Tanning. 

Organic Aloe Vera Gel, organic Jojoba, organic Coconut Oil, organic Cocoa Butter, Aloe Vera Juice, organic Coffee Infusion in organic Fractionated Coconut Oil, organic Coffee Tincture, organic raw Shea Butter, organic Lavender Hydrosol, organic Lavandin Hydrosol, Vermont Beeswax, Carrot Oil CO2, Colloidal Silver, organic Willow Bark Tincture, organic Propolis Tincture, Vitamin E D-Alpha (non GMO), Pure Essential Oils and Absolutes
For a deep, dark tan, apply Mocha Tan liberally to the body before sun exposure. Please sun responsibly, Mocha Tan Sunning Lotion to help produce a dark tan naturally, it is NOT a sunscreen and does not contain sunscreen.