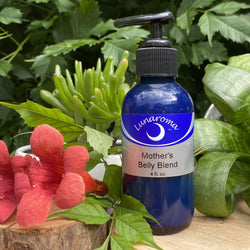 Lunaroma
Mother's Belly Blend
Our luscious emollient blend is perfect for a Mama-to-be's growing belly. Use for sealing in moisture after a bath or shower, improving skin elasticity, soothing tightness in the skin and for pregnancy massage.

Also use for pre-partum perineum massage. Contains nutrient-rich organic, raw Shea Butter, organic Avocado oil, organic Jojoba and vitamin E, as well as other emollients to help the skin's elasticity and suppleness while stretching.

Pregnant moms will love the smell of the wonderful, gentle blend of pure organic Tangerine, organic Australian Sandalwood, and organic Vanilla essential oils; all of which are safe for use in pregnancy.

This is a lighter, liquid and thinner (but still very rich), version of our Mother's Belly Cream.

Organic Sweet Almond Oil, organic Jojoba, organic Avocado Oil, organic Olive Oil, organic raw Shea butter, organic Cocoa Butter, organic Coconut Oil, Vermont Beeswax, Vitamin E and Pure wildcrafted and organic Essential Oils.

Perfect for use on dry skin for pregnancy massage. For softening the skin, soothing dry skin and improving skin elasticity, use after the bath or shower while the skin is still wet to seal in moisture. May be used on dry or damp skin for massaging the perineum.