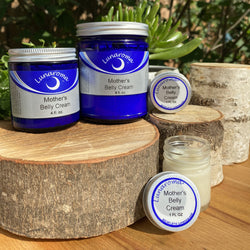 Lunaroma
Mother's Belly Cream
Our luscious, emollient Mother's Belly Cream is perfect for a Mama-to-be's growing belly. Use for sealing in moisture after a bath or shower, for pre-partum perineum massage, soothing dry, itchy skin, and to aid with skin elasticity through the stretching process. Mother's Belly Cream can also be used as an all-over the body emollient, and is a perfect pampering treat to use for pregnancy massage. 

Mother's Belly Cream contains nutrient-rich raw, organic Shea Butter, Avocado Butter, organic Jojoba and non-GMO Vitamin E. Pregnant moms will love the smell of the wonderful, gentle blend of pure organic Tangerine and organic Australian Sandalwood essential oils; as well as our Vanilla infusion, all of which are safe for use in pregnancy.

NOTE: Mother's Belly Cream is extremely HEAT SENSITIVE! When shipping in hot weather, we cannot assure you will receive it in perfect condition. Heat will cause this product to liquify and change its appearance however, this change will not damage the product.

Organic raw African Shea Butter, Avocado Butter, organic Coconut Oil, Mango Butter, organic Fractionated Coconut Oil, organic Jojoba, 100% Pure Premium Grade Essential Oils and/or Absolutes, Vanilla Bean infusion, non-GMO Vitamin E Mixed Tocopherols.

Use for massage, or after the bath or shower to promote skin elasticity, and to avoid dryness and itching. Apply a small amount to palm, allow to melt and then lightly spread over damp skin. May also be used for perineum massage.