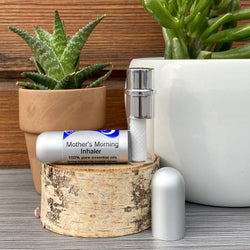 Lunaroma
Mother's Morning Inhaler
Mother's Morning is blended with balancing oils of Tangerine, Lemon, Bergamot and a touch of Peppermint. These fresh scents are wonderful helpers for newly pregnant mothers to use in the morning, or throughout the day when motion is too much and you need a little extra balance to get through uncomfortable times.

Enjoy the convenience of aromatherapy on the go!

Our newest inhalers are in aluminum tubes with refillable cotton wicks inside a glass vial for the purest and highest quality aromatic experience.

Pure organic and wildcrafted essential oils infused into a cotton wick in a glass vial, in an aluminum casing.