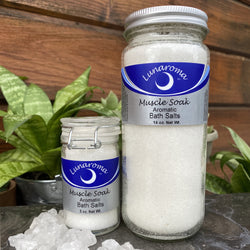 Lunaroma
Muscle Soak Aromatic Bath Salt
Muscle Soak Aromatic Bath Salt creates a soothing and relaxing bath experience after a long day of skiing, running, working out, or general strenuous work or exercise. 

Dead Sea Salt, Epsom Salt, organic Fractionated Coconut Oil, and pure Essential Oils.
Add 1/4 cup or more to an already poured bath. Soak and enjoy.