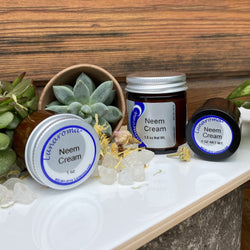 Neem, a tropical plant native to India, is highly regarded in the world of skin care and beyond. We feature the potent Neem oil in our Neem Cream alongside all organic ingredients of Aloe Vera, Lavender, Chamomile and Cocoa Butter to help your skin feel smooth, calm and moisturized.

 

Vermont Beeswax, Organic Jojoba, Organic pure Essential Oils, Pure Peppermint Menthol crystals.
Rub into to the chest, the upper back and under the nose. Some aromatherapists also like to apply to the bottoms of the feet.