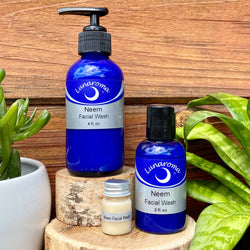 Neem is an ancient and powerful plant with many uses whose name comes to us from ancient Sanskrit meaning "the healer of all things". There are accounts of its use as early as 1500 B.C. for all types of skin care. Neem is currently a favorite in Ayurveda, though it is now gaining popularity across the world. We have made Neem the star in our balanced Neem Facial Wash designed for normal to oily skin as well as imbalanced, troubled skin. Those with dry skin may love and use Neem Facial Wash as well, as long as it is followed with a replenishing moisturizer.

 

Saponified Oils of organic Coconut, organic Olive and Organic Jojoba, Rosemary Extract, organic Aloe Vera, organic Rosewater, organic Aloe Gel, organic Neem Oil, pure wild crafted and organic Essential Oils.
Apply to wet face in a circular motion, gently wash and rinse well. Follow with a hydrosol or toner and your favorite Lunaroma moisturizer or elixir.