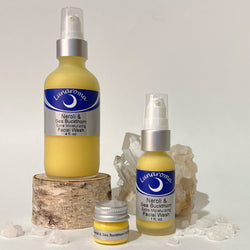 Lunaroma
Neroli & Sea Buckthorn Extra Moisturizing Facial Wash
Neroli and Sea Buckthorn are two exquisite ingredients in skincare. Our new facial wash is fortified with Ecocert Hyaluronic Acid, while featuring organic Sea Buckthorn, and organic Shea Butter with other organic nutrient rich oils to provide extra moisturizing.

Perfect for normal to dryer skin types as well as aging skin, our Neroli and Sea Buckthorn Facial Wash leaves your skin clean and nourished with a silky and moisture filled feel.

Use our Neroli & Sea Buckthorn Facial Wash to gently remove your makeup without drying out your skin while enhancing your self care routine with aromatics. Featuring Italian Neroli for an uplifting, bright, citrus and transformative scent which will make you look forward to this aromatic luxury in your daily skin cleansing ritual. 

Specially formulated with organic botanicals, providing long-lasting hydration while nourishing, softening and protecting the delicate outer layer of the skin, we love this new addition to our line, and the first product in our Neroli & Seabuckthorn Facial Collection. 

Organic Saponified Oils of Coconut, Olive, and Jojoba, organic Aloe Vera Juice, organic Jojoba, Distilled Water, organic Aloe Vera Gel, organic Coconut Oil, organic Rosewater, Vermont Beeswax, organic Shea Butter, organic Sea Buckthorn Oil, organic Guar Gum, Carrot Oil, Vitamin E, organic Glycerin, organic Rosemary Extract, Colloidal Silver, Ecocert Hyaluronic Acid, Pure Essential Oils and Absolutes.
Apply to wet face in a circular motion, gently wash and rinse well. Follow with a hydrosol or toner and your favorite Lunaroma moisturizer or elixir.