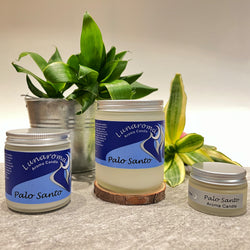 Lunaroma
Palo Santo Aroma Candle
PALO SANTO ... clean, clearing, centering. Our Palo Santo Aroma Candle features oil of Palo Santo from the sacred hardwood tree found in regions of South and Central America. Palo Santo has a wonderfully sweet and resinous aroma and has been traditionally used to expel negative energy, cleanse a space, and bring peace and harmony.

Palo Santo exudes a serene ambiance when it is burned. Enjoy the clean, natural aesthetic, energetic power and wonderful aroma. 

Our Palo Santo oil is distilled from sustainably-harvested from fallen branches of the Palo Santo tree grown in Ecuador. 

Our beautiful line of Aroma Candles are made with 100% non-GMO Soy Wax, Hemp and Cotton wicks and pure Essential Oils and Absolutes and contain no synthetic fragrances or petroleum additives.

Our premium Aroma candles are hand poured in small batches and are perfect for scenting your space, setting the mood, and elevating your daily lifestyle in a safe, non-toxic and all natural way. 

 

100 % Non-GMO Soy Wax, Hemp and Cotton wick, pure essential oils and absolutes.

No Parafin Wax

No Synthetic Fragrances

No Lead in wicks

No Plastic

No Petroleum

Before each lighting, stand up wick and trim to 1/4 inch.

For maximum aroma and to avoid tunneling and wasting of the candle burn time, be sure to burn candle until wax pool extends to the edge of the candle.

The aluminum lid may be used to extinguish the candle instead of blowing it out.

Always make sure to burn candles on nonflammable surfaces, and away from pets, curtains, children and anything else which is flammable.