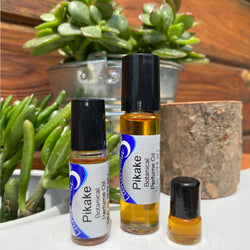 Lunaroma
Pikake Precious Perfume Oil
Pikake is the Hawaiian name for Jasmine Sambac, the night blooming Jasmine. Like classic day blooming Jasmine, it is a highly fragrant floral but Jasmine Sambac is much deeper and more mysteriously alluring than sweet. Pikake is extracted from Jasminum Sambac and has a distinctly rich, seductive and more earthy undertone than the Jasminum Grandiflorum. Our Pikake Perfume Oil is beautiful and mysterious and makes a wonderful tool for all things sensual, uplifting and quite honestly, gorgeous.

Our Perfume Oil Roll-Ons are made in the most pure and clean style possible; by blending premium essential oils and absolutes in a base of organic Jojoba. Organic Jojoba, being odorless and extremely shelf stable, is the perfect base for this perfume oil. It's an ideal medium for allowing all of the precious botanical aromatics of our aromatherapy essential oil synergies to fully express themselves.


Organic Jojoba, pure essential oils and/or absolutes.

Apply to pulse points, front and back of neck, chest, and anywhere scent is desired. For longer lasting scent, also apply a small amount to your hands before running them through your hair and/or gently patting down your clothes.