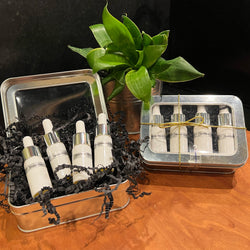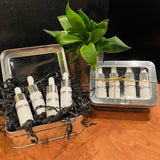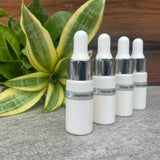 Lunaroma
Precious Collection Body Oil Gift Set
Our Precious Collection Body Oil Set features the most popular of our premier essential oils in a strong aromatic dilution. 

Extracted from rare and precious botanicals from all over the world, this set includes Rose from Bulgaria, Jasmine from India, Neroli from Italy, and Sandalwood from Australia. 


Contains 4- 10ml beautiful, white glass bottles with bulb droppers.




Carried in organic Jojoba and organic Fractionated Coconut Oil these exceptional oils are blended to be enjoyed in a variety of ways; add a couple of drops to an already drawn bath, apply to wet skin after the bath or shower to seal in moisture and indulge in scent, or use as a light perfume on the skin and hair.

Luxuriate in the aromas individually or experiment with creating your own blends.