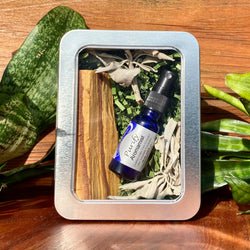 Purify Gift Set combines the meditative, clearing and cleansing aromas of Palo Santo, Frankincense, Rosemary, Lavender, Sage and Rosemary. Refresh and renew the energy in your home, gift to a friend as a house warming gift, or gift to a loved one needing to clear their energetic space.

Gift set includes:

1 each:

15ml Purify AromaMist

1.5oz (approximate weight) Palo Santo Piece (for burning)

.112oz (approximate weight) Organic White Sage (for burning)

Note: Palo Santo may be split to create several smaller pieces for easier burning.

Both Palo Santo and White Sage have been ethically grown and harvested with honor to their medicinal and spiritual roots. White Sage grown organically in the USA and Palo Santo grown in Ecuador or Peru.


AromaMist: Pure deionized Water, Pure essential Oils, Vegetable emulsifier.

Palo Santo Wood

White Sage

Use for aromatic and energetic cleansing and clearing of yourself and your space.

Mist Purify AromaMist in the air, on linens and bedspreads, cars or any place needing some aromatic cleansing.

Palo Santo and White Sage should be lit, allowed to burn and then wafted out in order to produce just a smoking. Waft in the air and around areas you wish to clean aromatically.