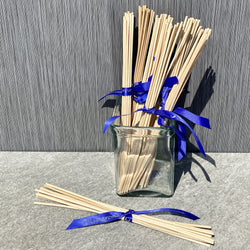 Lunaroma
Reed Diffuser Replacement Bundles
 A bundle of bamboo Reed Diffuser reeds for when you need fresh ones. 

 

A high concentration of pure essential oils in a proprietary base of natural plant extracts.

Upon first use, place Bamboo sticks into the reed solution, allow to soak for a couple of hours then turn over the reeds and allow to soak the other side. Flip reeds daily or whenever a more aromatic experience is desired.

Keep away from pets and children.

To preserve aromatic quality, place away from heat, and excessive sunlight.

Place carefully to guard solution from being spilled, will damage wood stained surfaces and other color treated surfaces.