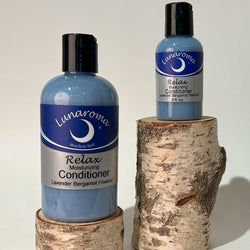 Lunaroma
Relax Moisturizing Conditioner
Experience aromatherapy hair care at its best in your own shower with our Relax Conditioner. With a calm, balanced, and serene scent and a deeply conditioning action.

Experience tranquility and serenity with our Relax Shampoo and Conditioner, infused with the calming blend of Lavender, Bergamot, and HoWood essential oils. Unwind and pamper yourself with this harmonious synergy designed to promote relaxation and rejuvenation.

The Relax Shampoo gently cleanses and soothes your hair, washing away the stresses of the day. Lavender essential oil, known for its calming properties, creates a serene ambiance while helping to balance the scalp's natural oils. Bergamot and HoWood essential oils add a touch of citrusy sweetness and woody undertones, creating a beautifully balanced aroma that uplifts the senses.

Paired with the shampoo, our Relax Conditioner nourishes and hydrates your hair, providing a luxurious treatment that leaves it soft, smooth, and manageable. Lavender essential oil helps to soothe and moisturize the scalp, while Bergamot and HoWood essential oils invigorate your senses and promote a sense of tranquility. The combination of botanical extracts and hydrating agents replenishes and restores your hair's natural shine and vitality.

Our Relax Shampoo and Conditioner, featuring Lavender, Bergamot, and HoWood essential oils, offers a blissful and indulgent hair care experience. Immerse yourself in the calming scents of nature, allowing the stresses of the day to melt away. Embrace the soothing power of these carefully selected essential oils and enjoy hair that is not only nourished but also enveloped in a sense of deep relaxation.

Contains no Sodium Laurel Sulfate or Sulfates.

Aqua (Deionized Water), Decyl Glucoside, Sodium Cocoamphoacetate, Glycerin, Xanthan Gum, Phenoxyethanol, Hydrolyzed Wheat Protein, Caprylyl Glycol, Panthenol (Pro-Vitamin B5), Sorbic Acid, (May contain sodium bicarbonate and/or citric acid as pH adjusters), pure essential oils. NO SLS.