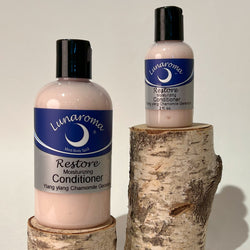 Lunaroma
Restore Moisturizing Conditioner
Experience aromatherapy hair care at its best in your own shower with our Restore Conditioner. With a floral, nourishing, supportive, and transformative scent and a deeply conditioning action.

Our Restore synergy, blooming with the exquisite essence of Ylang Ylang, Chamomile, and Geranium essential oils is an enchanting blend thoughtfully crafted to restore and revitalize your hair, enveloping you in a luxurious and floral-scented experience.

The Restore Shampoo delicately cleanses your hair, washing away impurities while maintaining its natural balance. Ylang Ylang essential oil, with its captivating floral aroma, promotes scalp health and fortifies hair follicles. Chamomile essential oil, reminiscent of a serene meadow, soothes the scalp, reducing inflammation and irritation. Geranium essential oil adds a touch of floral elegance while balancing oil production, leaving your hair feeling refreshed and rejuvenated. 

Paired with the shampoo, the Restore Conditioner deeply nourishes and repairs your hair, infusing it with a bouquet of botanical goodness. The harmonious blend of Ylang Ylang, Chamomile, and Geranium essential oils creates a symphony of floral aromas, transporting you to a garden of tranquility.

This enriching formula moisturizes, detangles, and protects your hair, unveiling its natural radiance and beauty. Enhanced with botanical extracts and hydrating agents, this enriching formula cleanses your hair unveiling its natural radiance and beauty.

Restore Shampoo and Conditioner, featuring the floral allure of Ylang Ylang, Chamomile, and Geranium essential oils, offers a transformative and sensory hair care experience.

Immerse yourself in the intoxicating scents of blooming flowers while treating your hair to the rejuvenating benefits of these carefully selected essences. Embrace the power of restoration and indulge in hair that feels replenished, nourished, and adorned with the captivating essence of floral bliss.

Contains no Sodium Laurel Sulfate or Sulfates.

Aqua (Deionized Water), Decyl Glucoside, Sodium Cocoamphoacetate, Glycerin, Xanthan Gum, Phenoxyethanol, Hydrolyzed Wheat Protein, Caprylyl Glycol, Panthenol (Pro-Vitamin B5), Sorbic Acid, (May contain sodium bicarbonate and/or citric acid as pH adjusters), pure essential oils. NO SLS.