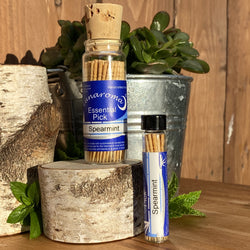 Lunaroma
Spearmint Essential Picks
Essential Picks are toothpicks scented with your favorite organic essential oils. They are great for freshening up the breath, something to enjoy chewing on, to use after eating and as an alternative to smoking. We use sustainably harvested bamboo wood toothpicks and 100% organic essential oils, so you can feel great about using them.

Essential Picks come in a sturdy glass container; we recommend the larger size (with the cork) for the table or a place where it will be stable (not your purse or backpack, as the cork may become loose, causing picks to spill). For travel, we recommend choosing the smaller size for your purse or backpack, as it has a secure screw top. You can also use the larger size to refill your smaller one!

 


Sustainably harvested Bamboo Wood toothpicks with organic essential oil of Spearmint.
Perfect for after eating or just for freshening the breath, enjoy as often as desired.