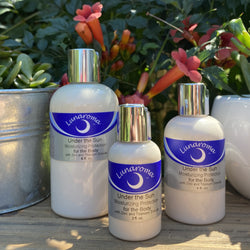 Lunaroma
Under the Sun Protection for the Body
Antioxidant rich Sun Protection For The Body contains natural protective minerals of non-nano Zinc and Titanium Dioxide. This antioxidant rich lotion is rich yet not heavy, nourishing, and beautifully scented all while helping to neutralize free radicals and aiding the skin's protective darkening process. Clinical studies show the topical application of Coffee and Coffee extract prove to be strong antioxidants. Under The Sun Protection For The Body provides a natural mineral protection while allowing the skin to moderately tan in less time, therefore decreasing over all sun exposure.

Coffee Infusion organic Coffee, organic Fractionated Coconut oil, organic Jojoba, organic Coconut Oil, organic Cocoa Butter, Titanium Dioxide, non-nano Zinc Oxide, Pure Essential oils and Absolutes
Apply liberally before going outside for sun protection. Continue to apply throughout the day, especially after swimming or sweating. To avoid sun damage, please limit your time in the sun.