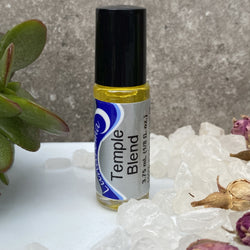 Temple Blend is ideal for applying to the temples and back of the neck. Temple Blend's clear and cool scent includes Peppermint, Grapefruit and Lavender. Temple Blend tingles and cools while its fresh scent helps relieve the tensions of the day.

 

Pure organic essential oils including wildcrafted Lavender, organic Peppermint, organic Grapefruit and organic Roman Chamomile in a base of organic Sugar Cane alcohol.
Apply to the temples, the back of the neck and wherever else on the head you desire cooling and clearing. Apply often for best results.