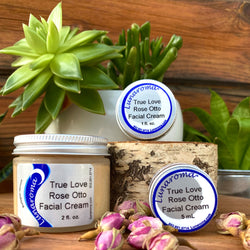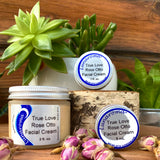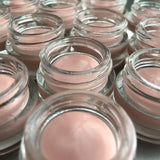 Lunaroma
True Love Rose Otto Facial Cream
Our True Love Rose Otto Facial Cream is the ultimate in care for the skin. We use the finest pure, organic steam distilled essential oil of Bulgarian Rosa Damascena alongside organic Rosewater and select emollient and antioxidant rich botanical ingredients in this luscious face cream.

A medium to heavier texture weighted cream, spreads beautifully on wet skin to seal in moisture. Rose is known for its amazing cosmetic benefits on all skin types. Our True Love Rose Otto Facial Cream is especially loved by those with mature, dry or sensitive skin.

Organic Apricot Kernel Oil, organic Rosewater, organic raw Shea Butter, organic Rosehip Seed Oil, Vermont Beeswax, organic Vegetable Glycerin, organic Alkanet extract, Colloidal Silver, Colloidal Gold, Non-GMO Vitamin E Mixed Tocopherols, non-GMO Vitamin E D-alpha, pure Essential Oil of organic Rose Otto

Apply to damp skin after cleansing and toning. Use as often as desired. Like all of our facial moisturizers, this cream is concentrated. Using on wet skin, allows for approximately 3 months of use for a 1 oz jar, if used morning and night.