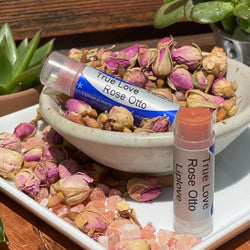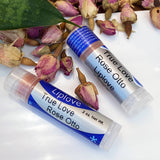 Lunaroma
True Love Rose Otto LipLove
Rose, floral and restorative, our True Love Rose Otto LipLove is by far the most exquisite LipLove we make. Although all our LipLoves are amazing, our True Love Rose Otto LipLove is beyond spectacular. Made with pure organic Bulgarian Rose Otto, the smooth texture and divine properties of this lip balm will convince you of how wonderful Rose really is. Just make sure you don't lose this one!

Not too oily, not too waxy; it is smooth, soft and purely natural. Enjoy the scents and flavors of pure essential oils and absolutes while you treat your lips to nourishing botanicals and plant powered beauty.

Vermont Beeswax, organic raw Shea Butter, Avocado Oil, organic Jojoba, organic St. Johnswort and organic Calendula infused in organic Olive Oil, organic Coconut Oil, organic Fractionated Coconut infused with Alkanet, Sweet Almond Oil, Vitamin E (D-alpha and mixed tocopherols) and organic Essential Oils and Absolutes.
Apply to lips as often as desired.