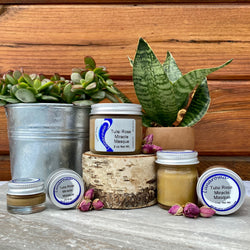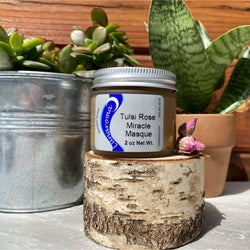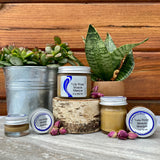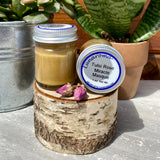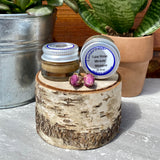 Lunaroma
Tulsi Rose Miracle Masque
We formulated Tulsi Rose Miracle Masque to blend the most dynamic combination of nourishing, moisturizing and antioxidant rich ingredients. This masque is deeply quenching to the skin and will leave your face feeling soft, creamy-smooth and absolutely radiant. Specifically formulated for renewal, clearing and supporting healthy radiant skin, Tulsi Rose will show you the miracle of the botanical world.

Organic Aloe Vera Gel, Vermont Honey, organic Jojoba, organic Bulgarian Rosewater, organic Vegetable Glycerin, Colloidal Silver, organic Alkanet Infusion in organic Fractionated Coconut Oil, organic Willow Bark**, organic Guar Gum, organic Acai**, Sulfur, organic Alkanet**, organic Echinacea**, Pomegranate CO2 Extract, organic Propolis Extract**, Colloidal Gold, organic Seabuckthorn CO2 Extract, organic Blueberry**, and pure organic and Wild-Crafted Essential Oils including Tulsi, Rose and Helichrysum. **=Extracted in organic Grain Alcohol
Apply onto face in a circular motion with clean fingers or a facial brush, allow to penetrate for at least 10-20 minutes. Rinse with warm water, follow with toner and moisturizer. Do not wear mask in direct sunlight while sun bathing. We recommend it in combination with Neem Facial Wash, Rosewater Hydrosol, Nourishing Facial Elixir and Clarify Facial Cream.