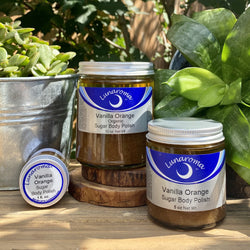 Lunaroma
Vanilla Orange Sugar Body Polish
If silky, smooth skin is what you are looking for, then you will want to keep your bath and shower stocked with Lunaroma Sugar Body Polish. Rich in both botanical moisturizers and exfoliants, these organic Sugar scrubs are your key to the softest skin possible. 

Our organic Cane Sugar is a natural double-acting exfoliant. Its granular form polishes away dead skin with a gentle scrubbing action, while its natural glycolic acid content works as a chemical exfoliant. The result is smooth skin and open pores that are ready to drink up moisture.

Beautifully scented with pure essential oils--using our Sugar Body Polishes in your bathing ritual will leave you feeling soft, sensual and replenished.

Scent Profile: Vanilla Orange is incredibly juicy, yummy, earthy, warming, citrus and Vanilla. Our Vanilla Orange Sugar Body Polish is great for that extra exciting citrus scrub with the ice cream pop aroma. Citrus' in general and Orange and Vanilla in specific, are a loved scents and very popular in Bath and Shower products.

Organic Cane Sugar, organic Vegetable Glycerin, organic Sunflower Oil, organic Jojoba Oil, organic Fractionated Coconut Oil, Apricot Kernel Shell, Walnut Shell, Vitamin E, and Pure Essential Oils.

Apply to wet skin during shower or bath by scrubbing in a circular motion all over body, with extra concentration on drier areas such as elbows, and feet and anywhere else that smoother skin is desired. Allow to soak into skin, then rinse well. Follow with a Body Oil, Ultra Luxe Lotion, or Body Butter if desired.

Use in the bath to scrub, then soak in the luxury of pure skin nourishing oils and aromatics.

Leaves skin silky smooth and aromatic.